I AM THE BLUES
From the juke joints to the church, up the mountain and down the bayou,


I AM THE BLUES

transports you to the Mississippi crossroads together with the last legends of the blues.

I AM THE BLUES takes the audience on a musical journey through the swamps of the Louisiana Bayou, the juke joints of the Mississippi Delta and Moonshine soaked BBQs in the North Mississippi Hill Country. The film visits blues musicians rooted in the genre's hayday, many in their 80s, still living in the American deep south and touring the Chitlin' Circuit. Let Bobby Rush, Barbara Lynn, Henry Gray, Carol Fran, Little Freddie King, Lazy Lester, Bilbo Walker, Jimmy "Duck" Holmes, RL Boyce, LC Ulmer, Lil' Buck Sinegal and their friends awaken the blues in all of us.
Film Credits:

Written and Directed
Daniel Cross
Producers
Daniel Cross
Bob Moore
Executive Producer
Mila Aung-Thwin
Bruce Cowley (documentary Channel)
Director of Photography
John Price
Editor
Ryan Mullins
Location Sound
Emmet Henchey
Creative Consultant
Ira "Dr. Ike" Padnos
Music Consultant
The Ponderosa Stomp Foundation
Press Contacts
Production Company: EyeSteelFilm - Bob Moore and Daniel Cross
Film Movement (US Distribution): Genevieve Villaflor | (212) 941-7744 x215 | genevieve@filmmovement.com
Theatrical/Home Entertainment: Michael Krause/Foundry Communications| (212) 586-7967 | mkrause@foundrycomm.com
Music Press: Jolyn Matsumuro/The Brookes Company | (310) 558-3000 x 202 | jolyn@brookescompany.com
ABOUT THE FILMMAKER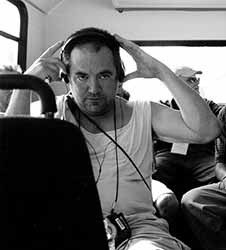 Daniel Cross is founder of EYESTEELFILM in Montreal, named by Real Screen Magazine as a top 100 non-fiction production company. He is an Associate Professor and previous Chair of the Mel Hoppenheim School of Cinema, Concordia University. Cross also serves on the University's Board of Governors and holds a university research chair in interactive documentary filmmaking.

Cross' latest feature documentary I AM THE BLUES premiered at the prestigious International Documentary Film Festival in Amsterdam (IDFA) and will have its North American premiere at SXSW March 15, 2016.

Daniel Cross is a multi-disciplined award-winning documentary filmmaker with a long history of directing and producing theatrical documentaries and exploring new media approaches. He made his mark directing feature length films concerning issues of homelessness; The Street: a film with the homeless, S.P.I.T: Squeegee Punks In Traffic and the online interactive documentary Homeless Nation winning the UN World Summit Award for e-inclusion. Together with eight Inuit students, he co-directed Inuuvunga: I am Inuk I am alive. He co-directed the films Atanasoff for History TV and Chairman George for the BBC and CTV networks.

Cross also co-produced the Genie Award films Up the Yangtze and Last Train Home, which also won two Emmy Awards in 2014. Other documentary productions include Jingle Bell Rocks, Fruit Hunters, Rip: A Remix Manifesto, Taqwacore: The Birth of Punk Islam, China Heavyweight, Inside Lara Roxx, and Chameleon. Daniel has won both the Trailblazer award at MIPDOC in Cannes, and the Inaugural Mentor of the Year award from the Canadian Media Producers Association.
ABOUT EYESTEELFILM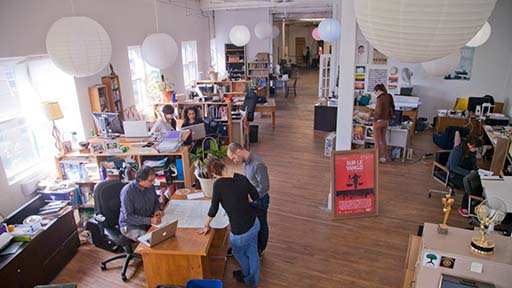 EyeSteelFilm is a film and interactive media company dedicated to using cinematic expression as a catalyst for social and political change. It was created to develop cinema that empowers people who are ignored by mainstream media, a mandate that has taken the company to explore projects, people and ideas around the world.
CHARACTERS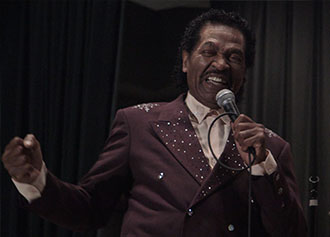 Bobby Rush
"Nobody calls me Bobby, Nobody calls me Rush,
Everybody calls me Bobby Rush"

quote from I AM THE BLUES
Acclaimed King of the Chitlin' Circuit, Grammy nominated recording artist Bobby Rush has just released his box set 50 Years As A Mississippi Blues Legend. Hot off his Grammy Nomination for "Decisions", Bobby Rush picked up the 2015 Blues Music Awards highest honor, B.B. King Entertainer of the Year plus the Best Male Blues Artist Award.

Born November 10, 1933, in Homer, Louisiana, the son of a preacher man. Bobby Rush built his first instrument, a primitive guitar or "diddley bow," and in his early teens he was donning a fake mustache and appearing at local juke joints as a solo artist. In the mid-'50s he moved up to Chicago, where his bands included Freddie King, Earl Hooker, and Luther Allison, while on jaunts back to his family home in Pine Bluff, Arkansas, he performed with Elmore James and James' cousin Boyd Gilmore.

He achieved national acclaim with the hits "Chicken Heads" "Sue," "Wearin' It Out," "Ain't Studdin' You," and "Hoochie Man." earning the title "king of the chitlin circuit". In the early '80s Bobby Rush moved from Chicago to his current home of Jackson, Mississippi, fulfilling his longtime dream of forming his own label "Deep Rush".

At a time when most of his contemporaries are resting on their laurels, Bobby Rush continues to be one of the most exciting and creative artists in the R&B/blues arena. In the last decade Rush has gained new audiences through performances on the Tonight Show, the Kennedy Center, Carnegie Hall, and on festival stages in Europe and Japan. But catch him on an average weekend and he's just as likely to be playing to packed houses in chitlin circuit clubs in places like Nesbit, Mississippi, Macon, Georgia, and Smackover, Arkansas. Bobby Rush is the real deal!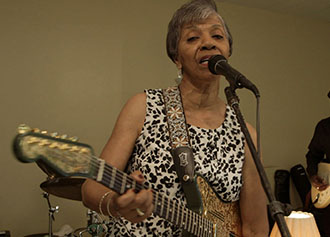 Barbara Lynn
To be a woman singing your own original blues and soul songs in 1960s Texas was a rare thing. To do so while brandishing a left-handed Stratocaster and bashing out hard-edged licks was inconceivable. Yet that's just what Barbara Lynn did, debuting with "You'll Lose A Good Thing," a number 1 US Billboard R&B chart hit and Top 10 Billboard Hot 100 hit in 1962.

Every female who ever picked up an electric guitar — or any other instrument, for that matter — and joined a rock band owes Barbara Lynn a tremendous debt, because Lynn broke a gender barrier: She was arguably the first woman to play lead guitar in front of rock and R&B audiences. Lynn fronted bands, and turned heads doing so — while also writing much of her own material, equally unheard-of at the time for female stars.

Soon Lynn was touring with such musicians as B.B. King, Otis Redding, James Brown, Al Green, Marvin Gaye, Ike Turner, the Temptations, Gladys Knight, Stevie Wonder, Smokey Robinson, Dionne Warwick, Jackie Wilson, Sam Cooke and Carla Thomas. She appeared at the Apollo Theater, twice on American Bandstand, and had her song, "Oh Baby (We've Got A Good Thing Goin')" covered by the Rolling Stones on their album The Rolling Stones Now! (1965). She married for the first time, at age 28, in 1970 and had three children. This, together with her dissatisfaction regarding the poor promotion by the record company, contributed to her decision to retire from the music business for most of the 1970s and 1980s.

She resumed her recording career after her husband's death, and returned to Beaumont, Texas. She still tours overseas and is a regular at the Ponderosa Stomp in New Orleans, LA. She still plays lead on all her albums. Her modern music incorporates elements of blues, funk and hip-hop, and she's also added a resonating twang to some of her licks; and when she stretches out more on guitar people shut up and listen. She continues to reside in Beaumont, and was given a Pioneer Award by the Rhythm and Blues Foundation in 1999.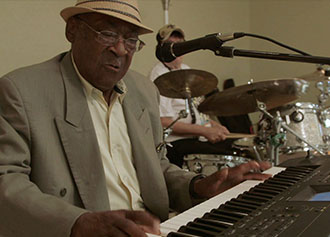 Henry Gray
Henry Gray, Louisiana-based pianist and singer, was born January 19, 1925 in Kenner, LA, now a suburb of New Orleans. He has been playing for more than seven decades, and has played with a multitude of artists including Robert Lockwood, Jr., Billy Boy Arnold, Morris Pejoe, the Rolling Stones, Muddy Waters and Howlin' Wolf among many others. He has more than 58 albums to his credit, including recordings for the Chess Records label. He is credited as helping to create the distinctive sound of the Chicago blues piano. Shortly after he was born Gray, an only child, moved with his parents to a farm in Alsen, Louisiana, a few miles north of Baton Rouge, where he would spend his childhood years. Gray began studying piano at the age of eight with a neighborhood woman, Mrs. White. A few years later, Gray began playing piano and organ at his local Baptist church, and his family eventually got a piano for the house. While blues playing was not encouraged within his family's home, Henry did play blues at Mrs. White's house, and by the time he was 16 he was playing blues music at a club in Alsen.

In 1943, Gray joined the United States Army and was sent to the South Pacific during World War II. While in the Army, Gray would frequently entertain his fellow soldiers with his piano playing and singing. Shortly before the war was over, Gray was given a medical discharge from the army. He returned to the U.S. in 1946 where he spent a brief time in Alsen before relocating to Chicago where he had relatives. After arriving in Chicago, Gray began spending a great deal of his time in the growing postwar jazz and blues club scene. Gray left Chicago in 1968 to return to Alsen, Louisiana due to the death of his father and to assist his mother with the family fish market business. Gray became an important part of Louisiana's music scene where his big, rollicking sound became part of the region's "swamp blues" style. In addition to performing, Gray worked with the East Baton Rouge Parish School Board as a roofer from 1968-1983. During the last thirty years, Gray has performed at virtually all New Orleans Jazz & Heritage Festivals, three Chicago Blues Festivals (1987, 1989, and 2005), the Montreal Jazz Festival (1988), nearly every Baton Rouge Blues Festival since its inception, the San Francisco Blues Festival, Memphis's W.C. Handy Blues Festival, several times at Festival International (Lafayette, Louisiana), the Mississippi Valley Blues Festival (Davenport, Iowa), the King Biscuit Blues Festival (Helena, Arkansas), and many other festivals around the United States. Gray has also traveled to Europe frequently to play in festivals and concerts and can be heard on several European releases.

In 1988, Blind Pig Records released Gray's first stateside feature LP entitled Lucky Man. The album was produced by guitarist Steve Freund who also joined Gray on the album for a combination of both Windy City blues and bayou boogie. In 1990, he recorded Louisiana Swamp Blues on the Wolf Records label. In 1998, Gray received a Grammy Award nomination for his album A Tribute to Howlin' Wolf released on Telarc Records. That same year he played for Mick Jagger's 55th birthday celebration in Paris. Gray continues to tour as a soloist and with his band Henry Gray and the Cats.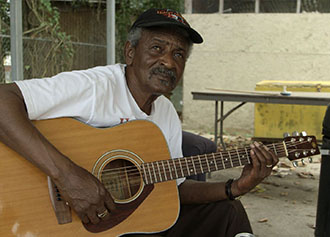 Lil' Buck Sinegal
Lil' Buck Sinegal, "Master of the Stratocaster," from Lafayette, Louisiana. His career has spanned more than five decades, with over 300 recordings, having played and recorded with Clifton Chenier, Henry Gray, Rockin' Dopsie, Buckwheat Zydeco, and other blues artists, including Grammy-winning efforts with Paul Simon's 1987 album "Graceland." He may be best known as the world's finest zydeco guitarist. In the late '90s, Sinegal recorded an album for Allen Toussaint's NYNO label (on which Toussaint also played keyboards and produced) that gave a good idea of his wide-ranging abilities. Allen Toussaint calls Paul "Lil' Buck" Sinegal the "Gentle Giant of Guitar. He also worked as a session guitarist for Excello on swamp blues by Slim Harpo and Lazy Lester. Paul "Lil' Buck" Sinegal is a true Louisiana guitarist in that he's played in several styles." The Li'l Buck Blues band is a mix of Blues, Soul, Rhythm & Blues, Rock and everything in between, with a distinct SouthWestern Louisiana feel. Lil' Buck was inducted into the Louisiana Blues Hall of Fame in 1999.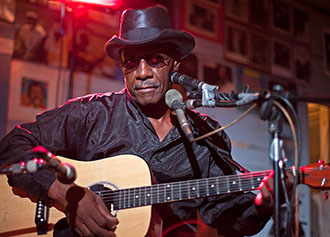 Jimmy "Duck" Holmes
Jimmy "Duck" Holmes is a deep-roots folk blues musician who carries on the Bentonia blues tradition, in what some musicologists describe as American-primitivism. There is nothing fancy or polished here. This is hardcore folk blues not meant for the weak-hearted. He plays a simple, relatively repetitive and monotone style that is at once ethereal, gritty and rough-hewn, even crude, and therein lies its beauty. Holmes was born to sharecroppers Carey and Mary Holmes in 1947, the year before they opened the Blue Front Café, in Bentonia, MS, Jimmy "Duck" Holmes is now the proprietor of this cafe, one of the oldest juke joints in Mississippi. In the mid-2000s he began performing blues actively after many years of performing casually, and has already garnered several awards and many accolades. He is a practitioner and conscious advocate of this distinctive blues style from his hometown, Bentonia, MS, whose most famous proponent was blues pioneer Skip James. Bentonia is home to the legendary Skip James, famous for his falsetto vocals and his mastery of a rare blues guitar style that has become known as the "Bentonia style". Though James died in 1969, this local style is preserved in the playing of Jimmy Duck Holmes, who has emerged as one of, if not the only living practitioner of the Bentonia style. And you can still hear it played today at The Blue Front Café.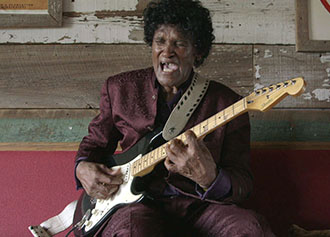 "Bilbo" Walker
Blues guitarist and singer/songwriter Robert "Bilbo" Walker was raised in the heart of the Mississippi Delta. Born February 19, 1937, on the Borden Plantation in Clarksdale. He lives in California and gets back to Mississippi frequently.

The music Walker and his bandmates produce is raw and in your face, straight out of the juke joints of the Delta. Walker was named after his father, Robert "Bilbo" Walker Sr. Walker is a completely self-taught musician who plays piano, guitar, and drums. He got his musical education thanks to his father, who would have "Little Junior Bilbo" playing piano behind a curtain at country juke joints around his native Clarksdale. He began playing guitar professionally in church as a teenager, but after his sister started dating one of the guys in one of Ike Turner's early bands, he had the opportunity to learn showmanship firsthand from Turner.

He began teaching himself Turner and Muddy Waters tunes on guitar. When Chuck Berry's first recordings were released in the 1950s, Walker modeled much of his guitar style after Berry's. He began making trips to Chicago, formed a band with bassist David Porter, and the two have performed together much of the time since then. Walker spent 17 years in Chicago, much of the time living with Porter. He bought land near Bakersfield and grew cotton and watermelons for the next few years, moonlighting as a musician in and around Bakersfield and making frequent trips back home to the Delta or Chicago. Walker was so successful as a farmer and entrepreneur that he was able to buy himself a limousine, a bus, and a motorcycle.

Walker first developed his unique one-handed guitar style, which he demonstrates at most of his shows. As he explains in his liner notes to Promised Land: "Famous musicians like B.B. King and them, they done did about everything with a guitar could be done, as if you want to try to top them guys like B.B. King, Chuck Berry, Bo Diddley and Buddy Guy, well, you really got to come up with somethin' the world maybe never seen did. And I'm the onliest man alive can put that kind of show on with the guitar with one hand like that....I wanted to be somethin' peoples could says, 'Well, no one else can do that but Robert Walker.'"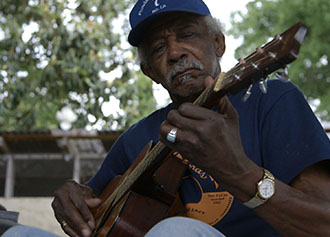 Lazy Lester
Leslie Johnson was born June 20, 1933 in the small town of Torras, Louisiana and raised mostly in Scotlandville, a suburb of Baton Rouge. As a boy, he worked as a gas station attendant, woodcutter and grocery store clerk, where he purchased a harmonica and Little Walter's famous "Juke" record.

Listening to Little Walter, Lester began to blow harp, and in a relatively short time became proficient. One of his brothers had a guitar, which Lester also had learned to strum. In his late teens, Lester joined his first ever band, a group called the Rhythm Rockers that included Big John Jackson on guitar, Sonny Martin on piano and Eddie Hudson as singer. Lester blew harp. The group played primarily high school dances, and Lester also began to sit in with Guitar Gable's band on club gigs. As one of the key creators of the South Louisiana swamp blues sound in the 1950s, Lester has been often imitated but never duplicated. Lester's high-pitched harmonica and 'lazy' vocals are blues archetypes. His entree into playing professionally came when he met Excello star Lightnin' Slim while riding on a bus sometime in the mid-1950s. The two became close friends, with Slim taking Lester under his wing.

Lester emerged on the blues scene playing harmonica with Lightnin' Slim. Soon legendary Excello producer Jay Miller found that Lester was equally talented on guitar and drums, and he became a stalwart of Miller's session bands. Lester appeared on Miller-produced songs by Lightnin' Slim, Slim Harpo, Katie Webster, Lonesome Sundown and others. Lester called it quits with Excello and Miller around 1966 and worked various day jobs including road construction, trucking and lumberjacking. Around 1969, he moved to Chicago for a very brief stint. Through the popularity of these recordings and as the Excello story has become the stuff of legend, Lazy Lester has enjoyed tremendous popularity worldwide. In 1998, he was inducted into the Louisiana Blues Hall of Fame. In 2004, he played at Radio City Music Hall in New York as part of Martin Scorsese's Year of the Blues super concert. Through all of his influences and associations, Lester's crafted a style as unique as his nickname. He calls it "swamp blues," and it's a mixture of blues, swamp pop and classic country. Lazy Lester continues to perform and record his lighthearted style of '50s Louisiana swamp blues in clubs and festivals.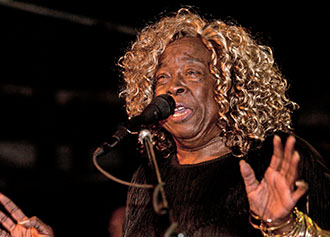 Carol Fran
Carol Fran, American soul blues singer, pianist and songwriter was born in Lafayette, Louisiana, October 23, 1933. Fran is best known for her string of single releases in the 1950s and 1960s, and her later musical association with her husband, Clarence Hollimon.

She has released five solo albums since 1992, her final collaboration with Hollimon being on JSP Records. Carol Fran performs in both English and the native Creole French language that her parents and grandparents taught her in the bayous of Lafayette, Louisiana. At the age of 15, Fran left home to join the tour of Joe Lutcher, the Louisiana jump blues saxophonist, and his band, the Society Cats. She also toured with Jimmy Reed, Lee Dorsey, Joe Tex, and Ray Charles. Fran eventually made her way to New Orleans where she married saxophonist Bob Francois. Abbreviating her married name to "Fran," she became one of the Bourbon Street club circuit's continuous vocal authorities. In 1957, Fran recorded her first hit single, "Emmitt Lee," for the legendary Excello Records, and in 1958 she toured with blues legend Guitar Slim. During the 1960s, she recorded extensively until she decided to limit her career to singing on the Gulf Coast nightclub circuit.

In the early 1980s, Fran reconnected with and married blues guitarist Clarence Hollimon and relocated to Texas. The duo formed the Hollimon Express and toured extensively in the United States and Europe, releasing three albums. In 1993 and 2001, Fran was nominated for a Blues Music Award (previously known as the W.C. Handy Blues Awards) for Female Artist of the Year. In 2006, she received the Louisiana Governors Arts Awards as Folk Artist of the Year and in 2008 she received a Lafayette City-Parish Council Distinguished Citizen Award as well as the Outstanding Jazz Vocalist Award celebrating the contributions of women as a part of African-American History month. In August 2009 Fran performed at the 7th Annual Bourbon Street Festival in São Paulo Brazil and in 2012 she received the Slim Harpo Blues Award for Female Legend of the Year. Carol Fran's distinct voice and piano-playing style mark her celebrated career that spans more than six decades culminating in her receiving the national heritage fellow from the national endowment of the arts.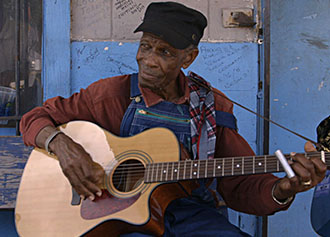 LC Ulmer
Lee Chester "L.C." Ulmer was born in 1928 in Stringer, Mississippi. He is a native of south Mississippi who for 50 years played music all over the U.S. before returning home to the Ellisville area in 2001.

Early on during his childhood his parents Luther and Mattie moved the family (six brothers and seven sisters) to a plantation near Moss Hill. His father played guitar, and harmonica, Most of Ulmer's siblings played music, and his mother's cousin (Charlie Lindsey) was a bluesman. Ulmer began playing guitar when he was nine years old and was soon playing with other local musicians on the family's porch. He played by himself for tips, and often played together with white musicians, and remembers old square dance numbers he used to perform. One of Ulmer's biggest influences was the guitarist and street musician Blind Roosevelt Graves, who Ulmer would see when he visited Laurel to visit his sister. Graves made numerous recordings in both gospel and blues in the late '30s and early '40s, and Ulmer closely studied his slide guitar technique. Ulmer later built his own slide out of stainless steel. From age 14 to 16 Ulmer built railway trestles across Lake Pontchartrain, and for the following five years or so worked out of a camp in Heidelberg, Mississippi, building railways spurs to oil wells. During this time he played regularly at a juke joint in nearby Paulding. Ulmer continued to travel regionally, and while working in Florida he was hired to serenade a boat captain on a trip to Cuba. In 1955 he traveled to Holbrook, Arizona, where he found work at the Motoaurant, a 24-hour establishment on Route 66 that featured a truck stop, museum, restaurant, and nightclub. He also performed regularly at a lumber camp in McNair, Arizona, and at a local Mormon church. In 1957 Ulmer moved to San Bernardino and then Hollywood, California, where he made a living playing on the streets and joined the musicians union—he still carries his original card in his wallet.

Ulmer made regular returns to Mississippi to visit his parents during the '50s, and in 1962 moved back to Laurel, where he worked various jobs and put together a band, the Bel Air Clowns, that played local clubs. In 1964 and 1965 he lived in Picayune and Pascagoula, where he worked at a missile plant, and following a brief stay in Laurel moved to Joliet, Illinois, where he lived for the next 37 years. In Joliet Ulmer worked construction, ran his own automotive shop, operated a tow truck, and performed regularly as a one-man-band. In Joliet he performed on shows with Chicago-based blues artists including Muddy Waters, Elmore James, Howlin' Wolf, Buddy Guy, Hound Dog Taylor, Jimmy Reed, Sonny Thompson, and many others. Ulmer experimented with various sorts of instruments, including an early synthesizer and a Gretsch White Falcon, which required two amplifiers and cost $1,800 when Ulmer purchased it new in 1965. Since returning to Mississippi in 2001 Ulmer has performed locally as well as at the Juke Joint Festival in Clarksdale, The Shed Blues Festival in Ocean Springs, and at the Blues Today Symposium in Oxford. In June 2007 he performed at the Roots and Blues Festival in Parma, Italy. In June 2008, he performed at the Chicago Blues Festival for the first time. A multi-instrumentalist who plays guitar, keyboards, drums, fiddle, banjo mandolin, kazoo, and harmonica, and performed for many years as a "twelve piece" one-man band. Today he plays mostly just guitar at live performances, and performs mostly original compositions in a distinctive style with a propulsive boogie beat.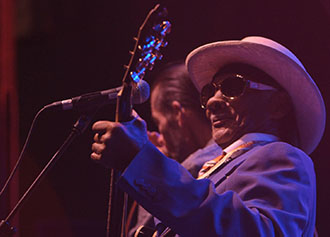 Little Freddie King
Little Freddie's real name is Fread E. Martin, born in McComb, Mississippi, July 19, 1940 down the road from Bo Diddley's place. His father, Jessie James Martin (named by a plantation owner after the outlaw), was a blues guitarist that worked the weekend black southern circuit in the Delta. His father would bring him out on the town when he was out there playing. Freddie eventually taught himself how to play guitar and develop his country-style blues or as he calls it "Gut Bucket Blues". At the age of 14, Freddie "hobbed" a train from the sharecropper farm to New Orleans to stay with his sister. It was in the early 1960's that Freddie was hung with the "Little Freddie King" appellation. Freddie's actual debut, difficult to find and almost as elusive, is his 1971 LP on New Orleans' Ahura Mazda Records on which he shared billing with his band mate John S. "Harmonica" Williams, Unofficially titled Rock and Roll Blues, the nine original songs that make up the LP are raw, gut-wrenching and filled with passion. While it was a milestone in New Orleans blues, the album's potent nastiness went under appreciated at the time. Little Freddie King became a charter member and an annual attraction at the New Orleans Jazz Festival and toured Europe with Bo Diddley and John Lee Hooker in 1976 in support of his first LP. His most amazing gig though occurred in 1981, when he embarked on a six month tour of the Western States when he hosted college workshops on the Blues. His 1970 recording titled "Harmonica Williams and Little Freddie King" is believed to be the first electric blues album recorded in New Orleans. His "Born Dead in Mississippi" became a regional hit. Since the new millennium, Freddie has performed at the N.O. Jazz Festival and French Quarter Festival (USA), Montreal Jazz Festival and Ottawa Blues Festival (Canada), Blues to Bop Festival (Switzerland), Nancy Jazz Pulsation Festival, JVC Festival and Festival de Lille (France), Blues Estafette (Holland), Burnley Blues Festival (England), Debrecen Jazz Festival (Hungary) Portsmouth Blues Festival, Savannah Music Festival, King Biscuit Blues Festival (USA). Terra Blues Club (New York), Chesterfields and New Morning Cafe' (Paris).
McKinney Williams
McKinney Williams was born in Lexington, Mississippi, a small community in Holmes County, in the hills along the edge of the Delta. His father, Mr. T.L. Williams, Sr. was a farmer, musician and singer. The family raised a variety of crops on the family land north of Lexington.

There was always music in the Williams home. His father, T.L. Williams recorded a successul album with The Williams Sisters and consistently played and performed in churches and for revivals throughout Mississippi and The South. His brothers and sisters all took part in family musical groups as they were growing up, learning to sing and play instruments. From a young age, McKinney took up the rhythm guitar and at age 12 his mother, Mrs.Christeen Dixon Williams presented him with a new 6 string guitar and for his brother a matching 4 string bass guitar. It wasn't long before McKinney, his oldest brother T.L. Jr. and David Lee "Heavy D" Williams, a drummer and just one year younger, were sneaking out of the house to play the blues at the local juke joint in Acona, a place called "The Village."

McKinney grew into a man a became a professional truck driver, spending 37 years behind the wheel while raising a house-full of stair-step children of his own. He followed in his father's footsteps, forming a singing group that he named "Pop and them Chillin." Now that his children are grown and have their own lives, McKinney has put down the steering wheel and picked up his guitar again to sing the blues and entertain audiences everywhere with his Front Porch Blues style of singing and authentic Delta Blues guitar work.